This is known as Seborrhea, which results in dry, scaly, and/or greasy skin. Some of the breeds we commonly see this with, but not limited to, are Spaniels, West Highland White Terriers, Dachshunds, Labradors and Golden Retrievers. Dogs with seborrhoea often end up at the vet with skin infections!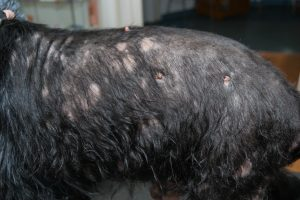 Sebolytic is designed to treat and manage cases of Seborrhea, a condition where dogs have a greasy and smelly coat as well as dry and flaky skin. Often they will have a build up of dead skin cells and crust. Sebolytic is designed to remove this excess, which can harbor bacteria and yeast, while at the same time treating active infections with its mix of targeted active ingredients such as Tea Tree Oil, Zinc and Vitamin B6.
Not sure which shampoo is right for your pet? Speak with your local vet clinic who will be able to give you the best advice for your pet.