The Speed™ Cortisol assay is a rapid immunochromatographic quantitative test which measures the circulating cortisol by laser-induced fluorescence analysis. The test should be performed only with a Speed Reader™ analyser.
APPLICATION
The measurement of cortisol in the blood contributes to the diagnosis and follow-up of hyperadrenocorticism (Cushing's syndrome) and hypoadrenocorticism (Addison's disease) in dogs. The Speed™ ​​Cortisol test can be used for both diagnosis and treatment follow-up.
Simple, fast and reliable, the Speed™ ​​Cortisol assay offers in-clinic detection of cortisol related endocrine disorders based on accurate, quantitative results.
SAMPLE TYPE
Serum
STORAGE
12 months between 2°C and 8°C
PERFORMANCE1
The Speed™ Cortisol test demonstrated a very good correlation (R2= 0.92) with a broadly used laboratory assay (chemiluminescent-enzyme immunoassay; IMMULITE®2000), in a significant number of samples and across a wide range of values.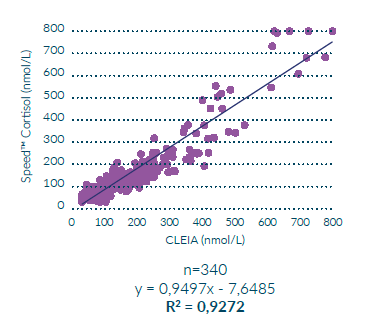 ---
1. S. LOUKERI, E. CLARET, J. MORLET. Performance evaluation of the in-Clinic Immunoassay Speed™ Cortisol for the measurement of circulating Cortisol in dogs, ESVCP-ESVONC Congress, 20-22 October, 2016, Nantes, France