The Speed™ CPSE assay is a rapid immunochromatographic quantitative test which measures the circulating Canine Prostate Specific Esterase (CPSE) by laser-induced fluorescence analysis. The test should be performed only with a Speed Reader™ analyser.
APPLICATION
Benign prostatic hyperplasia (BPH) is considered as the most frequent prostatic disease affecting about 80% of intact dogs over 5 years of age. BPH is the underlying cause of most other prostate disorders and an early diagnosis decreases the chance of future pathological conditions.
Speed™ ​​CPSE can be included in the routine examination of the prostate in dogs older than 5 to 6 years old, to early detect Benign Prostatic Hyperplasia and prevent progress to associated diseases.
SAMPLE TYPE
Serum or plasma (Heparin-Li)
STORAGE
18 months between 2°C and 8°C
PERFORMANCE1
The correlation with the reference method (Odelis™ CPSE) was very high (R2= 0.97), indicating an excellent agreement between the two assay systems.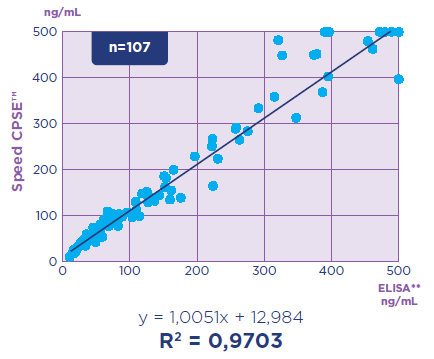 ---
1. Internal study BVT-Virbac