The Speed™ Progesterone assay is a rapid immunochromatographic quantitative test which measures the circulating progesterone by laser-induced fluorescence analysis. The test should be performed only with a Speed Reader™ analyser.
APPLICATION
Progesterone is a reliable indicator for monitoring the female reproductive cycle.
The Speed™ ​​Progesterone test can be used to determine the optimal date of mating or insemination. By offering the opportunity to predict the precise timing of ovulation, the Speed™ ​​Progesterone test increases the fertility rate.
Simple and fast to implement, the Speed™ ​​Progesterone test allows the practitioner to regularly and accurately monitor the heats of females thanks to a quantitative result.
SAMPLE TYPE
Serum or plasma (Heparin-Li)
STORAGE
18 months between 2°C and 8°C
PERFORMANCE1
The correlation coefficient R2 is 0.93, indicating an excellent correlation between the two analysis systems. The Speed™ ​​Progesterone test has an excellent correlation with the indirect chemiluminescence immunoassay method (IMMULITE® 2000, Siemens), validated in dogs for the progesterone assay.
Additionally, the reference ranges of ovulation were cross-validated at the Centre of Reproduction Studies of Carnivores (CERCA), from the Veterinary University of Paris (Maison-Alfort).2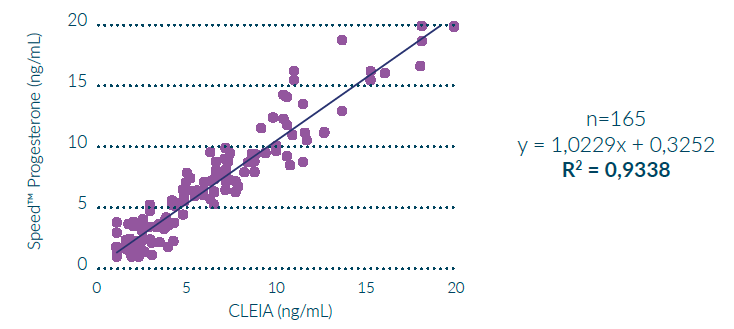 ---
1. S. LOUKERI, E. CLARET, J. MORLET. Performance evaluation of the in-Clinic Immunoassay Speed™ Cortisol for the measurement of circulating Cortisol in dogs, ESVCP-ESVONC Congress, 20-22 October, 2016, Nantes, France
2. Cindy Maenhoudt et al., Progesterone in the reproduction of the bitch: comparative results and interpretation of Speed™ Progesterone and electrochemiluminescence immunoassay, EVSSAR Congress, 2017, Austria