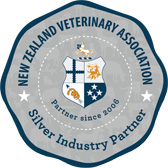 Virbac New Zealand is an independent pharmaceutical manufacturer and distributor that offers New Zealand veterinarians, farmers and pet owners a comprehensive and practical range of products and services, covering a majority of species and pathologies, including antibiotics, vaccines, parasiticides, diagnostics, and much more.
From humble beginnings in 1993, today Virbac New Zealand has grown to be the No. 5 animal health company in New Zealand based on turnover, and employs 70 Kiwis in sales, marketing, finance, operations, quality, and research development and licensing, all of whom are based out of our sterile/GMP accredited manufacturing facility, distribution centre and office in Hamilton.
Virbac New Zealand are proud to be a member of the New Zealand Veterinary Association.