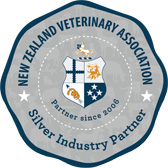 Founded over 50 years ago in France, with a presence in 100 countries and 4,900 employees, Virbac is an independent pharmaceutical manufacturer and distributor.
Virbac New Zealand provides Kiwi veterinarians with an innovative and comprehensive product range for their farmer and pet parent clients, from our manufacturing facility, distribution centre and office in Hamilton.
Virbac New Zealand are proud to be a member of the New Zealand Veterinary Association.