A UNIQUE 4-IN-1 INJECTION
When it comes to trace element deficiencies, the focus has shifted from improving growth rates and milk production, to the gains in fertility and immunity that can be achieved. There are high demand periods when trace element requirements rapidly increase, where even well-supplemented herds dip into deficiency. This often leads to disease and drops in production, growth or fertility.
MULTIMIN® is a unique concept of supplementation for cattle and deer, used by farmers throughout the country. Containing copper, selenium, zinc and manganese, it is designed to be administered to stock prior to periods of high demand, such as calving, weaning and mating.

Contains the essential trace elements copper, selenium, zinc and manganese

Safe and tissue friendly injection

Rapidly absorbed
Into blood: 8 hrs
Into liver: 24 hrs

Scientifically proven in NZ conditions

Reproduction/fertility
Healthy feet/hooves
Healthy skin/coat
Spermatogenesis
Cell division

Reproduction/fertility
Reduced retained placenta
Disease resistance
Coat colour

Reproduction/fertility
Reduced retained placenta
Disease resistance
Embryo survival

Spermatogenesis
Reproduction/fertility
Embryo survival
Ovulation
Bone development
FARMER STORIES
Farmers throughout the country are using MULTIMIN® to enhance immunity and improve fertility. Check out their stories below.

ENHANCING CALF IMMUNITY
A 2018 New Zealand study1 demonstrated the health benefits of injecting calves with MULTIMIN® early in life. The effect was rapid (within three days of injection), with death and disease consistently halved at all ages that calves were injected.
>>
52
%
reduction in disease
>>
58
%
reduction in deaths
ENHANCING COW HEALTH
Recent New Zealand research2 has shown that an injection of MULTIMIN® in dairy cows 14-28 days before calving resulted in a halving of clinical mastitis, and 25% reduction in subclinical mastitis.
>>
52
%
reduction in clinical mastitis
IMPROVING COW FERTILITY
A New Zealand study3 has shown that injecting dairy cows four weeks before mating lowered empty rates by over 3%, halved pregnancy losses, and moved the average conception date forward by three days, with a ROI of 5:1.
Overseas research has also shown that injecting bulls 12 weeks prior to mating improves semen quality and quantity.
>>
3.3
%
higher final in calf rate
USING MULTIMIN®
DOSAGE & ADMINISTRATION

1 ml/50 kgUse at birth and weaning
1 ml/75 kgUse 4 weeks prior to mating & calving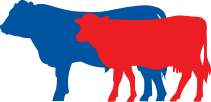 ADULT CATTLE
OVER 2 YEARS
1 ml/100 kgUse 4 weeks prior to mating & calvingUse in bulls 12 weeks before joining the herd

1 ml/100 kgUse prior to velveting, mating and weaning
Withholding periods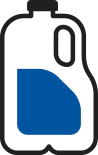 MILK:
Nil

MEAT:
Nil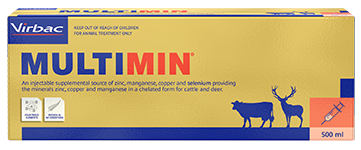 LOOK FOR THE GOLD BOXES AT YOUR VET CLINIC
TO LEARN MORE, ASK YOUR VET ANDCHECK OUT THE DOWNLOADS BELOW
REFERENCES
Bates, A., Wells, M., Laven, RA., Simpson, M. (2019) Reduction in morbidity and mortality of dairy calves from an injectable trace mineral supplement. Veterinary Record Published Online First: 25 April 2019. doi: 10.1136/ vr.105082.
Registered pursuant to the ACVM Act 1997, No. A009374.
Copyright © 2023 Virbac New Zealand Limited. All rights reserved. Virbac New Zealand Limited, 26-30 Maui Street, Pukete, Hamilton 3200.
DOWNLOADS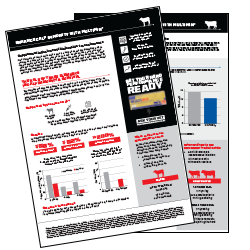 FARMER FLYER
Download Now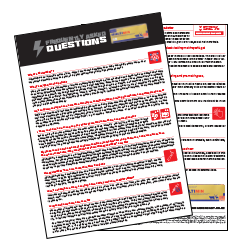 FREQUENTLY ASKED
QUESTIONS
Download Now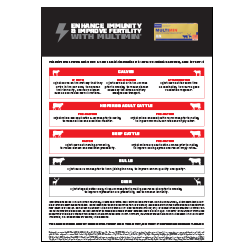 TREATMENT GUIDE
Download Now