Suprelorin® is a unique, safe and effective hormonal implant for the non-permanent contraceptive for male dogs. Suprelorin® is a safe, biocompatible implant, injected under the skin, which temporarily suppresses testosterone.
Suprelorin® implants are a cylinder of a biocompatible lipid matrix which is broken down by the body to provide a sustained release of the active ingredient, Deslorelin, over time.
Using Suprelorin® provides all of the advantages of castration without the surgery. Placing the implant is as simple as placing an identification microchip. The treatment is reversible and the vast majority of dogs will return to completely normal fertility 12 months after the implant was placed.
Suprelorin® has been proven to be very safe. It is usually used where surgery needs to be avoided, or where the dog needs to be able to return to fertility in the future.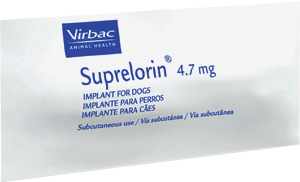 Only one Suprelorin® implant is needed, regardless of the size of the dog receiving the implant.
It will take more than a month for the implant to be effective the first time it is used, and so it is necessary to keep the treated dog away from on heat bitches for 4 - 6 weeks after the implant is placed. The implant lasts for at least six month, therefore to avoid any lapse in efficacy, it is recommended to place a new implant every 6 months.
Suprelorin® comes in a box of two implants, each one preloaded in its own sterile single use implanting device.
Suprelorin® must be refrigerated between 2°C and 8°C until it is implanted (do not freeze).
Available from your local veterinarian.


Registered pursuant to the ACVM Act 1997, No. A9158
Suprelorin® is available only under Veterinary Authorisation.